Call for Papers
Submissions are now closed. Revisions to existing submissions can be made and full papers can be uploaded in Conference Maker© until May 1.
The 13th Annual Conference on Computing in Economics and Finance (CEF 2007) will take place in Montréal, Canada from June 14 through 16, 2007. The program will cover all areas dealing with the computational aspects (broadly defined) of economics, finance, and decision making. These include (a) research that makes significant use of computers, (b) the development of computational techniques, and (c) the development of computational environments. The conference is open to all economists including those who are not currently members of the Society for Computational Economics (SCE) and will include plenary, regular and poster sessions, as well as cash prizes for the best graduate student paper(s).
To have your paper considered for inclusion in the program, please submit an abstract (max 3,000 characters, or approx. 300 words). The deadline has been extended to Friday, February 16, 2007 and will not be extended beyond that date. Joint-authored papers should be submitted by the author planning to present the paper. Submissions should be made online via the Conference Maker© program. Decisions on acceptance will be made by March 15, 2007 and full papers should be uploaded to Conference Maker© by May 1, 2007. Changes to abstracts, titles and authors for use in the program book must be made in Conference Maker© before May 1, 2007.

The organizers also encourage the submission of organized sessions. Participants in such proposed sessions should submit their papers via Conference Maker© as usual, together with an e-mail to the responsible program co-ordinator indicating that the papers are intended for an organized session.
Accepted papers may be allocated to regular or poster sessions; authors will notified of the type of session to which they are assigned when they receive their notification of acceptance. Papers will be allocated to poster sessions on the basis of fit, not quality.
Submission Instructions
Paper submissions are now closed, however you may access Conference Maker© to make corrections to existing submissions and personal contact information or upload complete papers.
We are using a dedicated software program, Conference Maker©, for paper submission and program management. Conference Maker© is made available courtesy of John Rust, whom we would like to thank most heartily.
To connect to Conference Maker©, MAKE SURE YOUR BROWSER ACCEPTS COOKIES and click on the link below. You will be prompted to enter your login name and password (the same as for all of your previous Conference Maker© submissions). If this is your first time ever using Conference Maker©, click the link to sign up for a new account. Then you can login for CEF2007 and submit your abstract by clicking on "Submit a Paper". Note that you can first prepare the abstract using any word processor (in plain text) and paste it in the appropriate Conference Maker© field.
If you wish for your paper to be considered ONLY for a poster presentation, please indicate this in the Paper Title field of the submission form by inserting the word POSTER as the first word of the paper title. (Example: the paper title should look like this: "POSTER: New Methods in Economic Research".)
Conference Maker© requires you to self-select a Program Committee Coordinator to review your paper using the "Area" field. Please choose the committee member whose area of expertise most closely corresponds with the topic of your paper.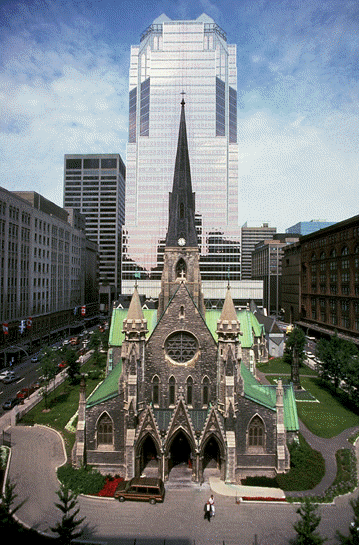 Scenes of Montréal: Christ Church Cathedral
and Place de la Cathédrale
© Canadian Tourism Commission,
Pierre St-Jacques