Things to do in Montréal
(aside from economics)
From the Montréal Casino to St. Joseph's Oratory, and everything in between, the City of Montréal website contains links to neighborhood maps, the top ten tourist attractions in Montréal, and much other useful information.
The dining in Montréal is top-notch, as featured in the March 2006 issue of Gourmet Magazine. Restaurant choices number in the thousands, from quaint bistros to fine upscale cuisine and even a few worthy brew pubs. Here are several websites to help in your search:
The Montreal Bar and Restaurant Page
Did you know? Montréal is home to a renowned circus school, training high school and college level students for careers in top circuses all over the world. Treat yourself to their entertaining end-of-year performance at the National Circus School Annual Show. Perhaps a few past graduates of the circus school will be featured at Cirque du Soleil, which also happens to be debuting their newest production while CEF 2007 is in Montréal.
Museums are everywhere in Montréal: art, history, archaeology, architecture - even insects. You can choose your favorite or try to see them all with one Montréal Museum Pass. In addition to providing an opportunity to purchase a comprehensive pass online, this website includes a list with links to 30 of Montréal's most popular museums.
We also recommend the Tourisme Montréal website, the official visitor information source for Montréal. Although it's somewhat more difficult to navigate than the City of Montreal site, it offers a wealth of suggestions for restaurants, attractions, shopping and current events.
We expect the weather to be perfect during CEF 2007, hence you will enjoy strolling the charming streets of Montréal to get from one place to another. But if it happens to rain, or if you are a curious shopper, then we encourage you to explore the vast underground city that connects many of the downtown Metro stops with a vast array of shops and restaurants.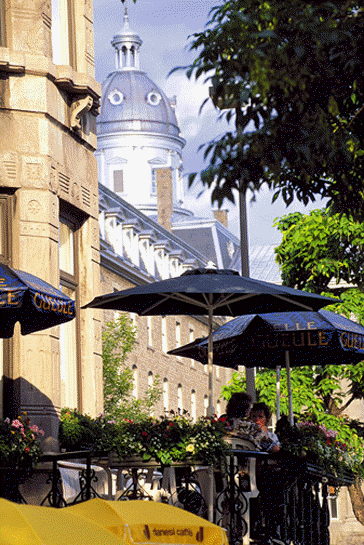 Scenes of Montréal: Terrace on
Saint-Denis Street - Latin Quarter
© Tourisme Montréal, Stéphan Poulin