Graduate Student Paper Contest
The winner of the 2007 Graduate Student Paper Contest was announced on June 15, 2007 at the conference banquet. Congratulations to Andriy Norets, of the University of Iowa, whose paper "Inference in Dynamic Discrete Choice Models with Serially Correlated Unobserved State Variables" received the top honor from among 22 entries.
The Society for Computational Economics sincerely thanks the jury members:
Christophe Deissenberg, Université de la Méditerranée & GREQAM
Herbert Dawid, University of Bielefeld
Simon van Norden, HEC Montréal
John Rust, University of Maryland
Ken Judd, Hoover Institution
Volker Boehm, University of Bielefeld
Jasmina Arifovic, Simon Fraser University
Nick Vriend, University of London
Leigh Tesfatsion, Iowa State University
Tony He, University of Technology Sidney
Thomas Lux, University of Kiel
Cars Hommes, University of Amsterdam
Original Announcement
The Society for Computational Economics is pleased to announce a contest for outstanding graduate student papers. We are soliciting student papers with a strong computational component, in any branch of economics, finance, and decision making.
The recipient(s) of the student prize will receive a motivating stipend. The award of the prize is conditional on the presence of the prize recipients at the CEF2007 meeting. That is, at least one author must be registered and present in order to compete. The jury can decide not to attribute the prize if it considers that none of the submitted papers is of sufficient quality, or to attribute several prizes. At most US$3,600 will be given for 3 awards funded by the Journal of Economic Dynamics and Control. In addition to the cash awards, winners will be reimbursed by the Society for Computational Economics for conference registration and banquet fees. Winners will be announced and prizes will be presented at the conference banquet on Friday evening.
Applications to the student prize contest must include the full paper. This should be sent by e-mail in PDF format to the contest organizer:
The subject line of the e-mail should be CEF Student Contest. All authors of the paper must either be currently Ph.D. students or have received their Ph. D. after June 15, 2006. The proof of Ph.D. student status for each author should be sent by email with the full paper or faxed to: +(33) 4 42 93 09 68 with a cover page entitled: Student Contest Application - CEF2007. All submissions will be acknowledged by email. If you do not receive a message from Prof. Deissenberg within one week, please inquire!
The application deadline for the graduate student paper competition is March 15, 2007, however your paper cannot be entered in the competition if you have not already submitted the abstract in Conference Maker.
Important Notice: In addition to sending the full paper in PDF format by March 15, 2007, the abstract must also be submitted to Conference Maker© for consideration in the conference program. The deadline for conference submissions in Conference Maker© is February 16, 2007. Students who received their first notice of this contest after February 16 and would like to submit an abstract to Conference Maker© should contact conference registration at sce2007@msn.com to arrange an extension. The absolute deadline for contest participants to submit abstracts in Conference Maker© is February 28, 2007.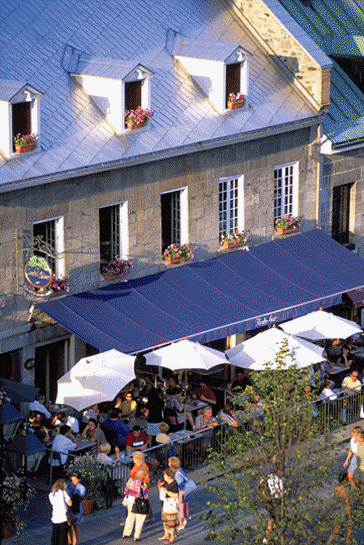 Scenes of Montréal: Terrace on
Place Jacques-Cartier, Old Montréal
© Tourisme Montréal, Stéphan Poulin